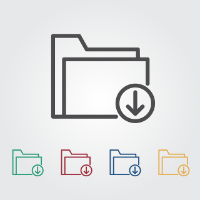 Magento 101 – Backup Magento Sites with JetBackup Snapshots
Magento: Fastest Growing e-Commerce Platform
Magento is one of the fastest growing e-commerce platforms. It is an open source e-commerce solution which offers its customers immense control and flexibility over the look and functionality of their online businesses. Its functionality rich interface provides efficient tools for merchandising, marketing and data management.
The Pressing Need for Maintenance & Upgrade
Once your e-commerce website goes online, its regular maintenance would be the next logical step. To tackle the security attacks and optimize the overall performance, you need to upgrade your website on a regular basis. But before you could employ the changes to the production server, it would only be sane to create a backup, to prevent any data loss.
JetBackup's Snapshot from cPanel
JetBackup Snapshots from cPanel is the most sought after tool to back up your resources. A Snapshot is a complete backup of an environment. This includes full account backup, files, emails, DNS zone, cronjobs, database, network certificates and stored files on the mounted drives. More importantly it empowers users to make their own backup and restorations from within their web hosting control panel. It also emphasizes the importance of safeguarding/backup their important data.
How to back up your website using Snapshots?
After accessing your CPANEL, you'll see under "JetBackup" category an icon labeled "Snapshots", as shown below:

The following page will be displayed, here you'll find 'Create Snapshot' under 'Jetserver Staging' as shown below: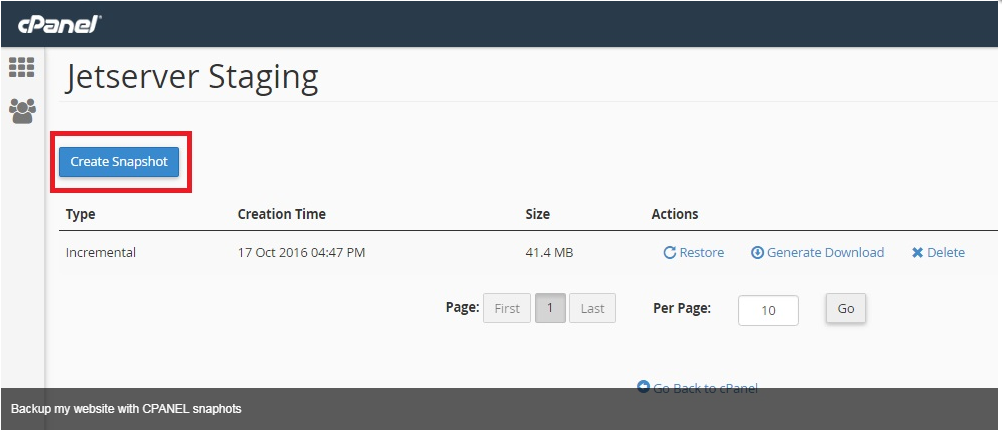 Clicking the "Create Snapshot" button produces the following response, and the following represents the start of backup process: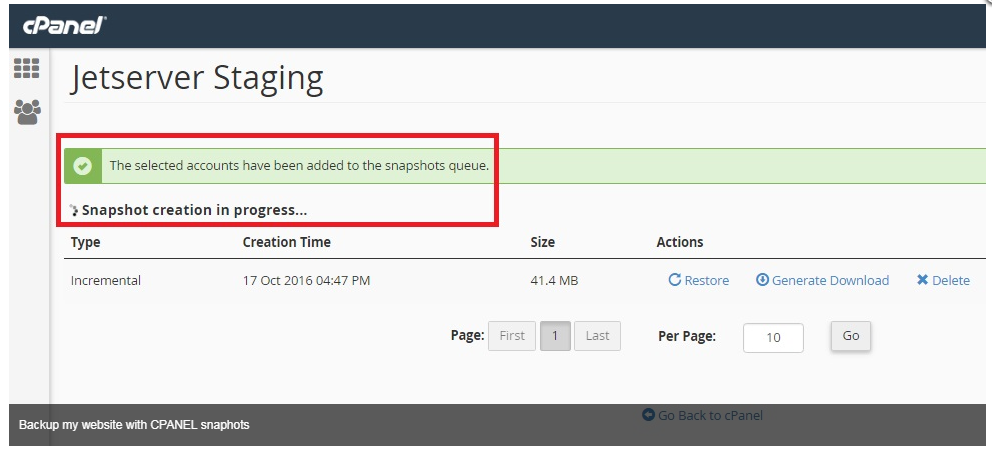 The following will appear after the end of backup process: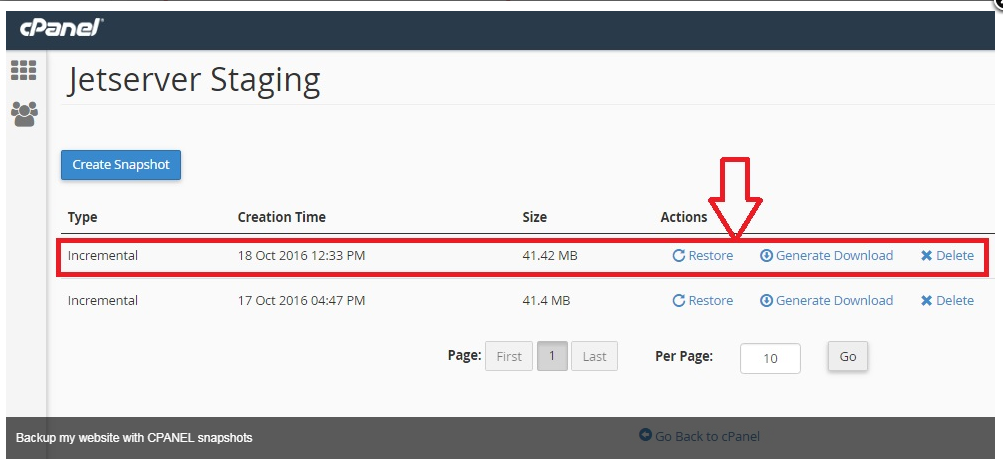 The new line created in the snapshots page is the current snapshot which has just been created. The next possible scenarios are: 1. Keep this snapshot backup on the server and use it when need be with the "Restore" link marked by an arrow. 2. Download the snapshot to your computer.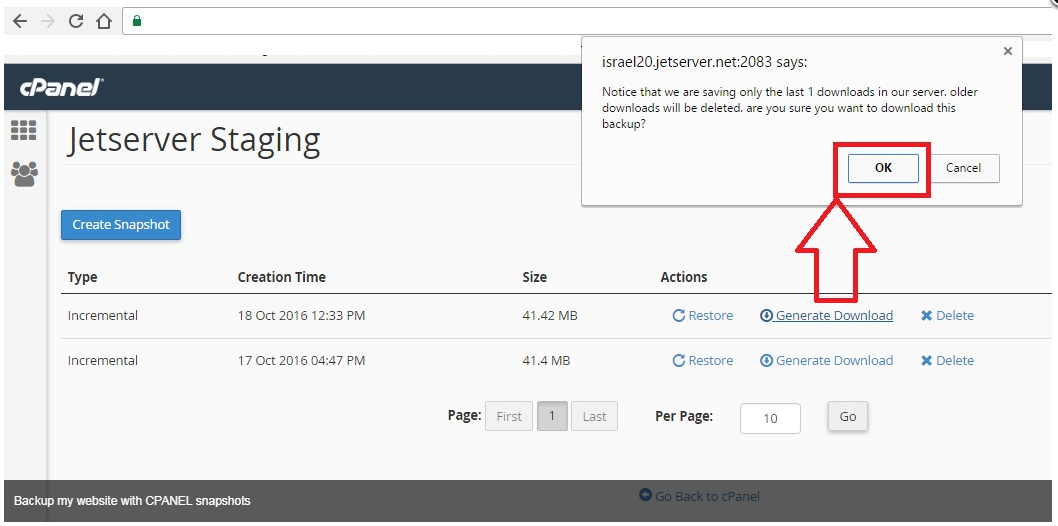 If you choose to click the "Generate Download" link, you'll be warned that the server keeps only the last backup and exporting this backup will result in deleting other backups. Clicking the "OK" button will result in: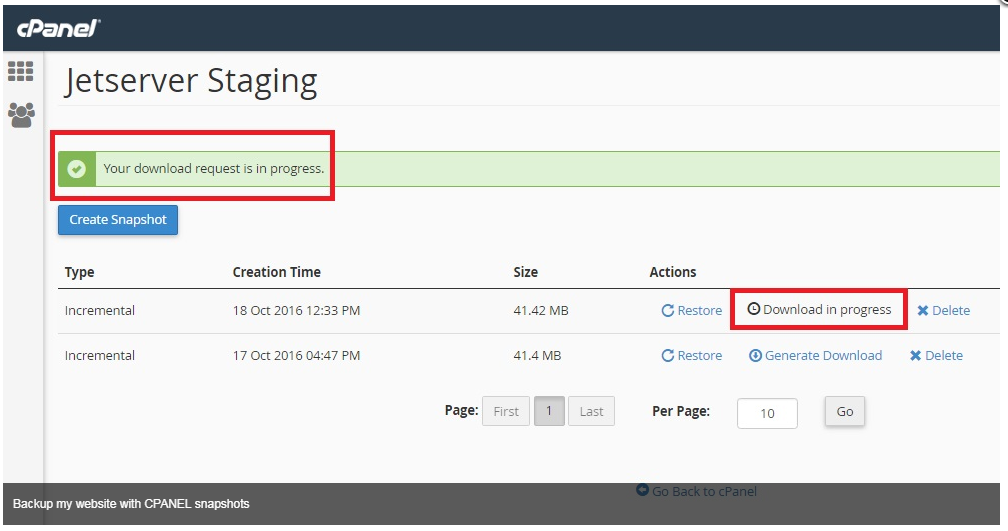 A notification that the download process is in progress. At the end of the process, this will appear: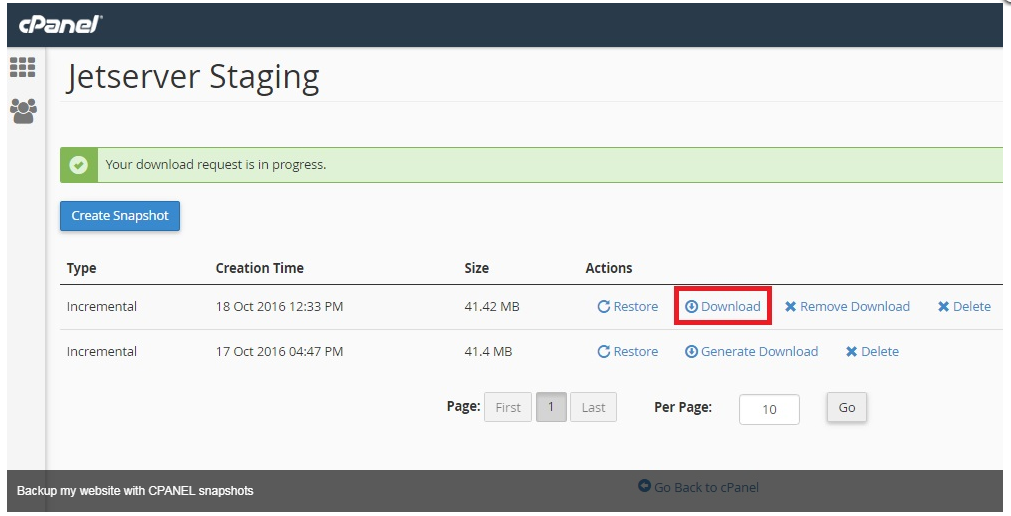 Finally the snapshot backup file is ready to be downloaded. Click the "Download" link to save the Snapshot to your computer
What Next?
Now that you have created a backup, you must schedule this process regularly to ensure, safe and continuous working of your website.